15th TOYOTA DREAM CAR ART CONTEST
CONGRATULATIONS!!!!
At the end of 15th Toyota Dream Car Art Contest, a total of 1,262 artworks were received nationwide. These artworks have been shortlisted to the best 9 considering (concept, innovation, artistic impression).
These comprised of 3 winners from each of the 3 categories. Three other artworks received special awards: Engineering award, Waku-Doki award and Innovative Concept Award.
Click to view list of winners in 15th Toyota Dream Car Art Contest.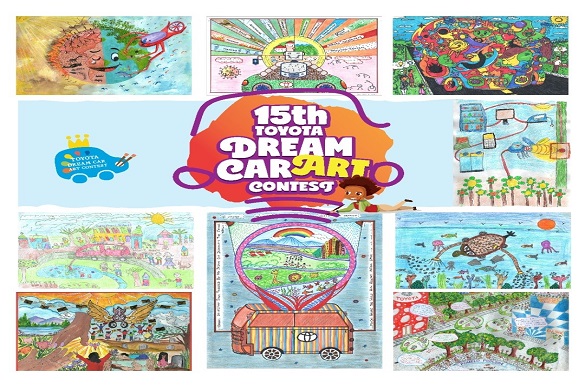 Continue to let the creativity in you shine through your
Artwork!!!
TOYOTA DREAM CAR ART CONTEST
15th DREAM CAR ART CONTEST
The Toyota Dream Car Art Contest is an annual competition organized by Toyota Motor Corporation (TMC) of Japan for all children up to 15 years all over the world. The contest seeks to uncover creativity in children by asking them to draw their dream cars that illustrates an idea of future mobility. The contest is grouped into three (3) categories: for children under 8 years, 8 to 11 years and 12 to 15 years.
It is made up of the National Contest and World Contest. The National Contest is where 9 winners (3 from each category) are selected as representatives from Ghana. The 9 artworks are then entered in the World Contest to compete with other 9 artworks from different countries worldwide.
WATCH OUT FOR THE 15th TOYOTA DREAM CAR ART CONTEST